Business cards are the staple of any business' marketing program.  After nearly 400 years, they are still one of the quickest and most effective ways of passing your contact information to potential customers and clients.  However, there are several alternative ways a 3.5" x 2" card can be used to gain new customers.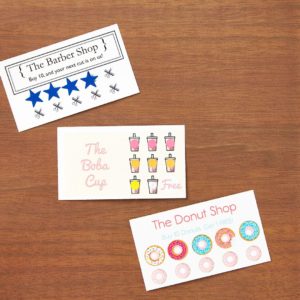 Businesses such as coffee shops, sandwich shops, bars, and even spas and salons can really benefit from loyalty cards. By offering a customer a free sandwich, discount, or any kind of incentive for repeat business, you can build a great relationship with your customers and entice them to come back to your establishment over and over again.
Another benefit of a loyalty card is frequent reminders. Once that first visit is stamped, customers are far less likely to throw the card away, and as long the card is in their wallet or purse they will be constantly reminded of your business.
Tips:
Be sure to use a unique way to stamp or hole punch the card.  You don't want people to be able to fraudulently mark off the visits and expedite their reward.
If using an ink stamp, make sure the ink will absorb into the card and not smudge off.
Be sure to keep the design of the card in line with the rest of your branding.  This way people will be able to easily recognize your business.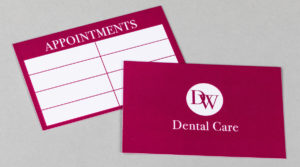 Appointment cards are extremely helpful for a service type business such as realtors, hairdresser, therapists, or personal trainers.  Once a client gets the appointment card, they will put it in a place where they'll be constantly be reminded of your business, whether it is in a wallet or purse, on a refrigerator or corkboard.
Tips:
Be sure to use a type of paper that can be written on.  Any kind of paper with a coating or smooth finish will not be good as the ink is likely wipe off.

Make sure you have your contact info clearly on the appointment card this way they can easily reach you to reschedule or cancel the appointment.  Also, having your contact information provides for a great chance that the client will share it with someone else as a referral.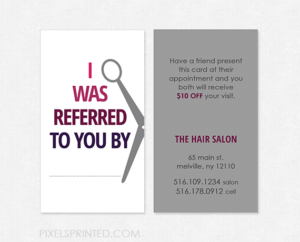 A peer-to-peer referral is the best way to gain new and loyal customers as people trust reviews more from people they know than those on the internet.  Giving current customers some incentive to refer you to a potential client is the perfect way to help spread the word of your business.  This is perfect for service-type businesses to grow.
Tips:
Be sure to allow enough space for the referrer to write their info as well as the referral info so that you can collect both sets of data.

Again, since people will be writing on the card, make sure to choose a type of paper that won't let the ink smudge or wipe off.

Make sure the design is in-line with the rest of your branding.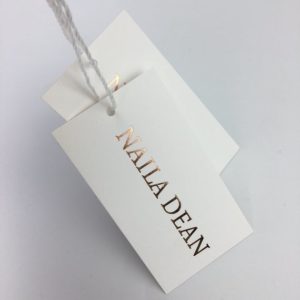 If you are selling a lot of custom products, then a great way to add to your branding without spending a fortune on custom labels are swing tags.  These little tags are perfect for tying around your products with a price and description of the products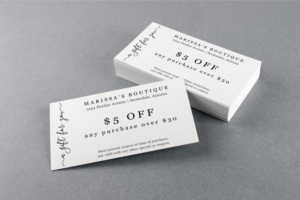 Coupon cards offer a tangible item for people to hand in at the time of purchase.  In today's digital society, it is very easy for people to make a copy of a coupon and use it repeatedly or manipulate the discount, which eats into your profit margin.  With a physical product, you can collect it after it is used and reduce the amount of fraudulent uses.
Tips:
Be sure to have contact and location details on the coupon so that people know where or how to redeem the discount.
If you are ready to work with us to design and print an alternate use for a business card, then send us a message and we'd be happy to work with you.